December 31, Seventh Day in the Octave of Christmas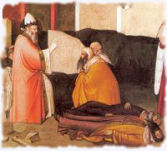 The last day of the year is also the feast of St. Sylvester — bishop of Rome in 314. Constantine gave him the Lateran Palace, which became the cathedral church of Rome. Many legends exist about Sylvester. He supposedly cured Constantine from leprosy and later baptized him on his deathbed.
New Year's Eve, along with its innocent gaiety, is really a day for serious reflection. On the eve of the civil New Year the children may join their parents in a holy hour, in prayer and thanksgiving for the gifts and benefits which God has given them in the past year, and to pray for necessary graces in the forthcoming civil year.
From: http://www.catholicculture.org/culture/liturgicalyear/overviews/seasons/christmas/christmas_days7.cfm